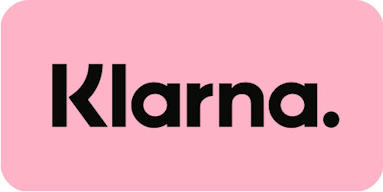 Buy Now, Pay Later with Klarna
If you need your items straight away, then Klarna may be the option for you.
Klarna offer two interest-free and fee-free Buy Now, Pay Later (BNPL) options:
Pay in 3
This option allows you to spread the cost of your purchase into 3 equal interest-free and fee-free instalments. The first payment is made at point of purchase, with remaining instalments scheduled automatically every 30 days.
Pay in 30 days
With Pay in 30 days you have up to 30 days to pay for your goods after they are shipped, with no interest or fees. This means you can return the items if they're not what you expected or need, without any money leaving your bank account.
On their BNPL products Klarna conduct robust eligibility assessments on each and every purchase, including a soft credit check, which will not affect your credit score. This means they take a real time view of someone's financial circumstances so they only lend to those who can comfortably pay them back.
They make sure you're informed ahead of time before a payment is due. In the Klarna App you'll have the chance to pay off your balance earlier or, in case you need some extra time, you can extend the due date for free and get 10 additional days to pay. You can extend the due date only once per order.
With their BNPL products you will never pay more than the price of the purchase. If you miss a payment Klarna will reach out to you to ask for repayment but there will never be a late payment charge or interest and your credit score will not be impacted. Should you struggle to pay, they have a dedicated vulnerable customer team that can help you find a solution that works for you. If you miss a payment, however, they will restrict the use of their services.
If you have fallen behind on your payments and if after repeated attempts Klarna are still unable to contact you to help you manage your payment plan, they will refer you to a debt collection agency. There are still no additional fees or interest charges passed to you and your credit score will not be affected. Klarna only ever use debt collection agencies to continue to help them make contact with customers. They never sell unpaid debts to debt collection agencies on these products. This means Klarna maintains total control over how the debt is managed. Klarna do not use enforcement agencies or bailiffs and neither do their debt collection agencies.
Thank You for shopping at Alexander Byron Baby Boutique
© 2022 Copyright Alexander Byron Baby Boutique